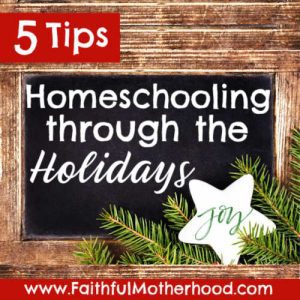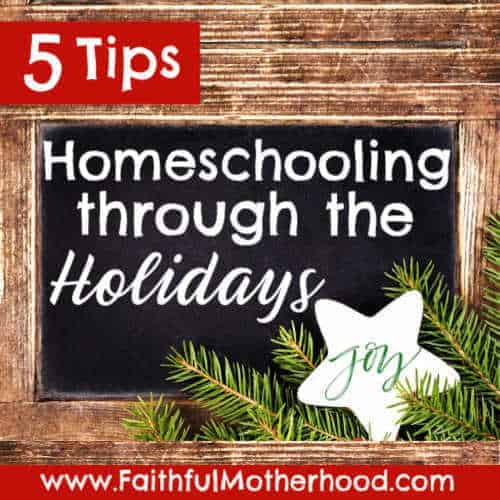 As fall moves into winter, the holiday season heats up.  Our calendars fill with activities and food as we move through the final months of the year.  The excitement of the new school year has worn off and we are getting bored and tired with school.  Finish the year with confidence with 5 tips for homeschooling during the holidays.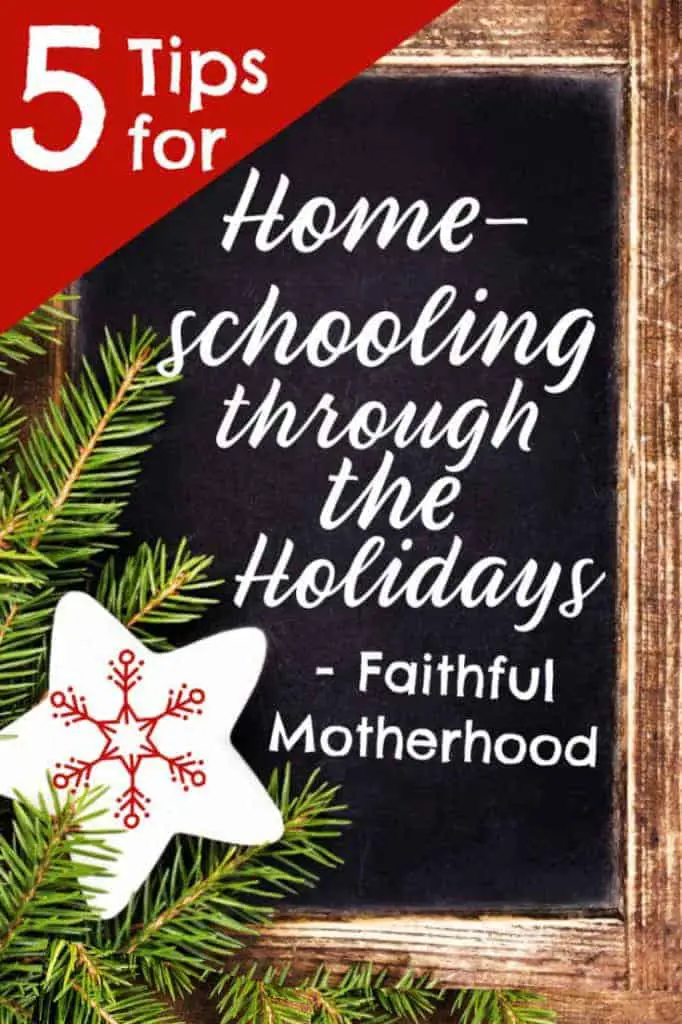 Homeschooling during the Holidays? Limit Sugar
Sadly, our holiday celebrations usually prominently feature an abundance of food and sweets.  Between the candy of Halloween, the extra desserts at Thanksgiving, and the Christmas cookies and fudge – there is plenty of sugar to be had for all.  This change in our children's nutrition has consequences.
Sickness
All this extra sugar makes us more susceptible to getting sick.  Pair that with staying inside more and the stress of traveling and inevitably we are dealing with homeschool sick days.  Stay healthy during the holidays by limiting the sweets and adding in some Vitamin D.
Behavior
Rarely does sugar make children behave better! You might be a lucky mom whose children don't seem to be affected, but more children are affected by the shift in their diet.  Stress, travel, and the schedule changes of the holidays have a ripple effect on our kids.
The net result – they are less likely to be on their best behavior.  Limiting the sugar gives your kids better odds at making good choices.  Around family, I'll take every increase in a possible positive outcome that I can get!
Focus
When sweets are in the house, my kids can obsess over them.  It makes sense when you realize that as a culture we are addicted to sugar.  They are constantly focused on eating.  Sadly, they never seem satisfied and will continue to crave more.
Homeschooling during the Holidays? Use Travel Time Wisely
For those of you that live far from family, use those travel days wisely.  If you are going to be stuck in a car all day, why not use it as a school day!  The blessing of homeschooling is that you have more flexibility to travel to visit family or just for pleasure.  Instead of spending those hours staring at a screen, we use that time for school.
Siblings can help one another if they are stuck.  Or, a challenging math problem can become a conversation for the whole car.
If they knock out their school work quickly, then they can move on to something else.  If your students aren't old enough for independent work, then choose a fabulous audiobook for your moving "school day."
Homeschooling during the Holidays? Change up your Schedule
Does your family participate in a homeschool co-op that takes a break?  If not, you can still take a break too.  Breaks in routine are a great time to break your routine and change up your schedule.
If you normally do each subject every day, consider a block schedule.  One day could be all about history.  Read some books, watch some documentaries, and make a project. The next day could be loaded with science readings and experiments.
This may not be an option for all subjects.  Your student might rebel at a day of math. Yet, for other subjects that opportunity to immerse themselves for the day might make the learning go quicker.
Homeschooling during the Holidays? Scale Back
There are days when there is too much else going on to get all of your school work done.  Extra cooking and extra trips to the store interrupt our days.  Maybe you have more things going on at church or you have relatives coming for an extended stay.
It is okay to scale back.  Public schools don't always get a full day of learning in and count it as a school day.  How many school kids have ever watched a "movie" in class?
Give yourself a break mom.  Create a scaled-down day winning schedule.  At our house that is math, handwriting, and some book reading.
That trip to the store that counts as a field trip full of socialization and practical life skills.  Bust out the board game when relatives are staying and count it as logic skills learning.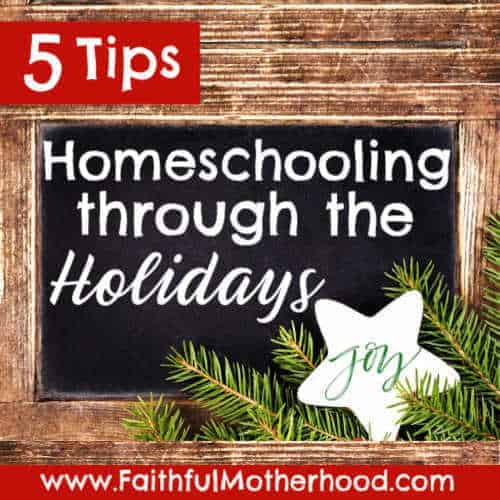 Homeschooling during the Holidays? Take a Break
During the holidays, you need to take a break.  Really.  Many times as moms, our workload can increase during the holidays with more cleaning and cooking.  There are more activities and traveling.  You don't have to cram it all in.
Set your margins and your boundaries.  It is okay to take a break from school for your students' sakes and yours.  Rest helps us renew and actually get more work done.
Need help saying "no" in order to take a break.  You'll love: "Just Say No for Homeschool Moms"
Don't just take a break from school, but allow yourself to get some real breaks as well.  If you are exhausted and tired, it affects your homeschool as well.  Make sure to take some time to do absolutely nothing as well.  Take some time to do things you are passionate about that fill your spirit.
Homeschooling during the Holidays? Choose Homeschooling Joy
Homeschooling during the holidays can be wonderful and challenging.  When winter creeps in, it can be hard to stay the course.  The distractions and challenges are many.  Use these tips for homeschooling during the holidays to keep your homeschool healthy, happy, and on track.
Don't forget to set aside extra time to spend with your Bible and in prayer.  The best gift you can give your family this time of year is a present mom who is filled with Christ's joy.   Set aside the books, and love on your children because they grow up so fast.
---
Almost every homeschooling family suffers that post-holiday slump.  The fun of winter is over and we are ready for spring.  In the dark of winter, many homeschool moms fail victim burnout and want to through in the towel.  Be prepared to push through by reading: "Overcome Winter Homeschool Burnout."
Check out these other articles on homeschooling:
7 Tips for the Introverted Homeschool Mom
What Homeschool Moms Wish Their Pastors Knew
Homeschooling Through High School: Overcome 3 Stumbling Blocks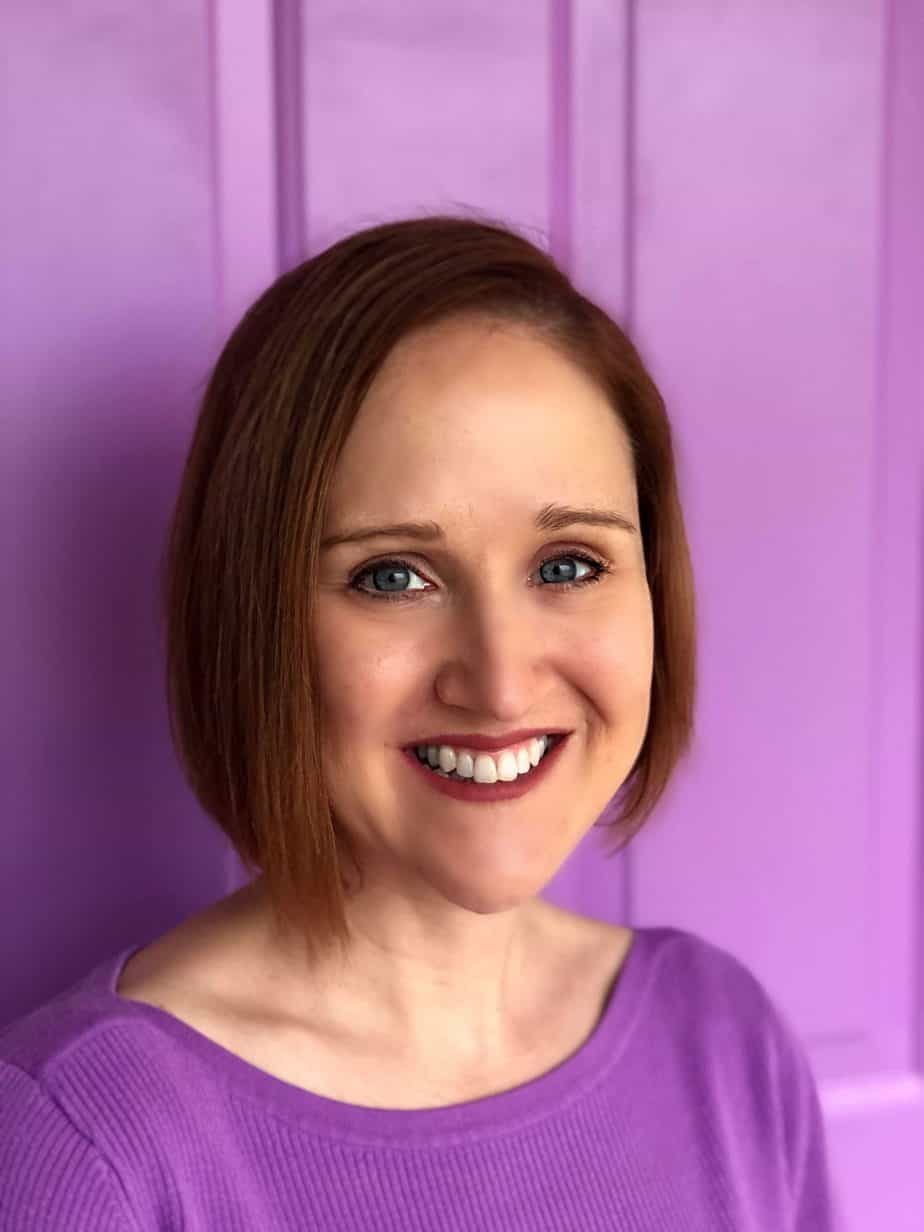 The voice behind FaithfulMotherhood.com is Jyn.  She is a veteran homeschool mom of three. More than just a pastor's wife, she holds a Master of Divinity degree and has served in church leadership for over 20 years.  Her passion is equipping parents to live out their calling as the number one faith influencer for their children. She longs to see moms empowered by God's Word and transferring that love to their children through daily Bible study and family devotions.