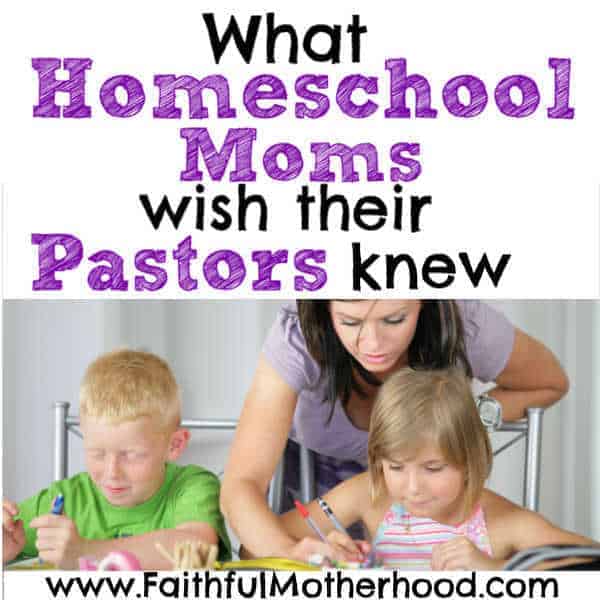 The number of homeschooling families is quietly growing across America.  Homeschoolers are appearing in more and more churches.  Some homeschooling families are blessed to have other homeschooling families in their congregations.  Other homeschooling families are the lone rangers in their congregations.  Stereotypes and misunderstandings about homeschooling can sadly follow us into our church lives as well.  Here are some things that homeschooling moms wish their pastors knew.
#1 Homeschool Moms and SAHM are not the same
Invitations to join the Wednesday morning Bible study are sweet, but we can't come.  I am sure that other members of the church share the same frustration.  Just because we are not working at a job outside of our home, doesn't mean that we aren't working.
We have some flexibility, but we have work that has to get done.  We are full-time school teachers for our families.  Stay at home moms with younger children are in the same boat until their children are in school.  Both sets of moms have their plates full.  Homeschool moms wish their pastors knew how hard they worked at home.
#2 Don't assume we have more time than others moms
Homeschool moms tend to be more involved in our children's activities and leading in areas at the church. We have gotten over the fear of not being the professional experts, and we know how to dive in and learn how to do it ourselves.
Our problem is that we tend to do too much!!  We are more than just a full-time teacher and homemaker.  We are also often the children's ministry volunteer, the dance mom, the soccer mom, the scout leader, etc.  We want to say yes when the pastor asked us to help out, but sometimes we need to say no.  In fact, those busy moms that work full-time jobs are not any busier than we are.  Go ask them to help out too! Remember, homeschool moms have a full-time responsibility at home.
#3 We are Teachers too!
Homeschool moms wish their pastors knew that they are teachers too.  When you gather the teachers and other school staff at the front of the church to pray for the new school year, don't forget us.  Our student body may be small, but we are still teachers in your congregation.  Our students are still members of your children's and youth ministries.
Many times the church pastors will attend events at the local schools to show their support.  Remember that homeschoolers have events too.  Come to our events as well. Homeschool teachers and students need your support too.