There is a point usually found in the dark of the mid-winter when homeschool moms finally run out of steam.  The days are cold and dark, and everyone has been cooped up in the house too long.  The fun of the winter holidays have passed, and we are ready for spring.  The school days seem long with no end in sight.  The mid-winter homeschool blues strike and you have a case of homeschool burn-out.
Winter Homeschool Burnout? You are not alone!
When it hits you, you might feel all alone.  You might be ashamed to admit that you are fed up with your cherubs and dream of sending them off to public school.  You may have worked so hard to convince your husband to homeschool, that you are afraid to admit your fears and doubts to him.  You might wonder why you decided to homeschool in the first place.
You are not alone.  Just about every homeschool mom I know has hit a wall homeschooling and has wondered about quitting.  Homeschooling is hard – it confronts your children's sins and your sin.  Satan wants you to stop homeschooling and wants you to doubt.  Homeschool burnout can hit at any time, but it seems like February is a prime month.  Being prepared can help you make it though.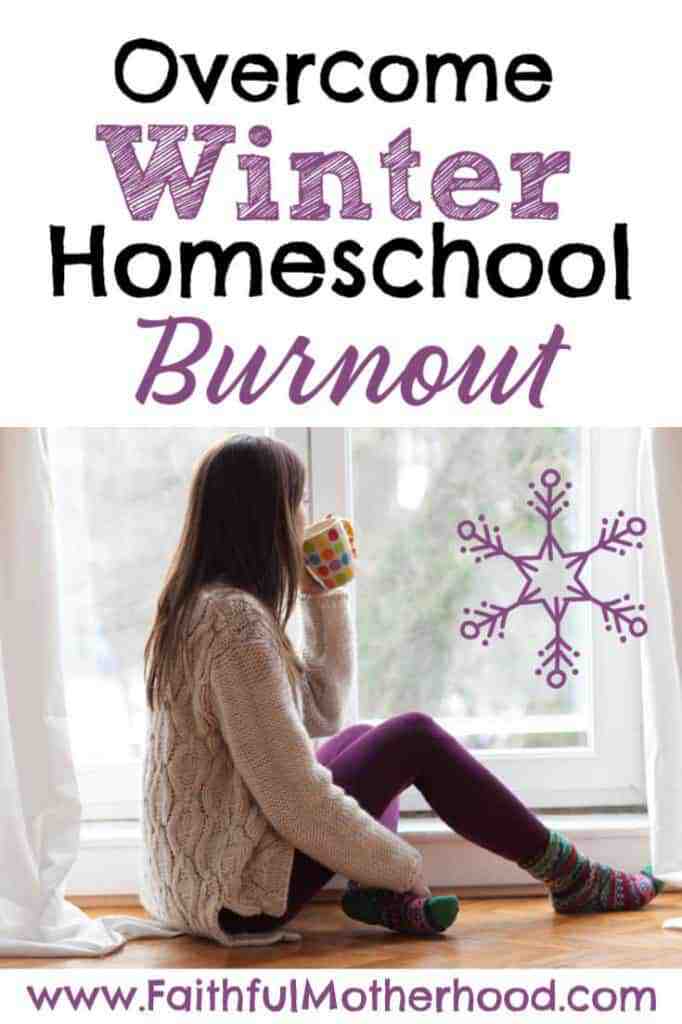 Winter Homeschool Burnout? Take some Sabbath Time
Homeschooling moms are busy.  We are usually schooling more than one student, involved in church, running our household and possibly even leading and volunteering for other organizations.  Homeschooling moms are the ones that are willing to go against cultural norms because they are passionate about making a difference.  Sometimes our plates are just too full with all of the good things that we are doing.  We need Sabbath.  We need to rest.  Not just a few minutes here or there or an evening off.  You need to rest.  When you hit a wall, it is okay to take a week off – even two weeks off – and spend some time resting.  Stay in bed and indulge in television for the day.  Most homeschoolers I know have created a lifestyle of learning so missing a few days or weeks in the winter – will still have your kids out of school before the public school kids.
Winter Homeschool Burnout? Moms need Fun too
All work and no play makes Jack and a dull boy.  Guess what?  All work and no play makes our life dull as well.  Are you getting play in your day?  Your kids need it and so do you.  Take time to stop and play a game with your child.  Bundle up and go outside for a walk.  Do something silly and laugh.  Play hooky for the day and watch a silly movie or show.
Think about ways that you can bring more fun into your school day.  Can a board game be the reward for school work getting done? Can some silliness be added to one of the subjects?  What fun homeschool recess ideas could you add?
Winter Homeschool Burnout? Practice Self-Care
I do not like the cold and dark of winter.  Last year, I treated myself with a SAD light.  Amazing!  The light just makes me feel happier and more energetic.
Also, I make sure that I am getting adequate vitamin D and magnesium.  Research natural ways to increase your mood and make sure that you are nurturing your body.  Invest in some quality lotion for your dry feet and hands.  Warm up in a warm bath.
These are not indulgences but investments in keeping your school's star teacher at the top of her game.  Your physical, mental, emotional, and spiritual health have a profound impact on the culture of your home.  Taking the measures necessary to nurture each one of these aspects of your health not only blesses you but your entire family.